South Florida's mold removal/remediation and water damage professionals with over 25 years of experience. Family owned and operated. We've raised our children and grandchildren here.
We, Manny (Manuel – Director of Operations) and Maryellen Perez (Business Manager), are the owners and operators of Advanced MicroClean. Manny has been a leader in mold remediation and water damage services for over 25 years. He was one of the first to acquire his MRSR (Mold-Related Services Remediator) license when Florida passed the law requiring all mold remediation companies to have a licensed remediator on staff. After working in the field for 10 years, we decided to start our own company in 2001. Our goal and ambition have always been to deliver great customer service, hard work, and dedication to our clients. We do not want to add additional stress to an already stressful situation. This is what has kept our doors open year after year, even through COVID-19.
Prior to opening Advanced MicroClean, Manuel Perez was Vice President of CAPRI/VONA Remediation Services (a national engineering firm) for 10 years. There he supervised a crew of 36 in remediation/removal of old, lead-based paint, asbestos, and other hazardous materials. Manny has supervised thousands of microbial remediation of mold abatement projects throughout Florida. He has worked for government entities, local municipalities, and thousands of homeowners in the private sector. Recognized as one of the industry's leading experts in mold remediation, Manny has conducted numerous presentations and classes on mold remediation and prevention to insurance groups, housing authorities, property managers, and real estate agents.
Manny has serviced the residential and commercial properties of Florida through 5 major hurricanes. He has both addressed the removal of water-damaged building material and advised clients on how to prevent further contamination and reoccurrence.
On a more personal note, we have been residents of Miami-Dade and Broward counties for more than 55 years. We have 5 children and 7 grandchildren. All 7 grandchildren live in Weston just minutes away from us. We are truly blessed. We have been residents of Weston since 1987 and we have very strong ties to the local area. We take great pride in our family, business, and community!
Founded: Leader in mold remediation since 2001
Location: Weston, FL/Fort Lauderdale, FL
Serving: Fort Lauderdale, Miami, and all South Florida counties
Employees: All of our employees and technicians have vast experience in the field of environmental services. Our employees are all W-2 employees and are not subcontracted.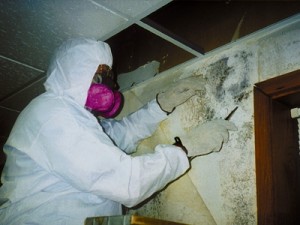 All Advanced MicroClean personnel are trained and supervised in microbial remediation.
For Your Information
The MRSR (Mold-Related Services Remediator) is a fully licensed and insured professional, trained to meet specific state requirements for Florida DBPR (Department of Business and Professional Regulation) licensure. They must complete a vigorous course in mold remediation techniques including assessment, mold, moisture, and respiratory protection (PPE – personal protective equipment).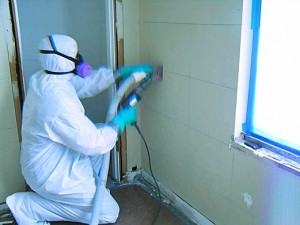 MicroCleaning is the process of isolating, containing, air scrubbing, and specialized cleaning of all areas in a commercial or residential environment that is contaminated with microbial growth. This can include stachybotrys, more commonly known as toxic black mold, or Penicillium. These are just some of the examples of common mold species. The cleaning process includes the removal of mold impacted building materials as well as treatment of the HVAC systems.
How We Keep Mold Spores Contained
Beware of other companies that simply clean up mold without following proper protocols. The toxic spores can float and lodge elsewhere, causing problems down the road. AMC avoids those issues by doing the following:
We isolate the work area with the construction of a negative pressure containment using poly walls. This is critical in preventing the spread of airborne or contact contamination.
We use HEPA-filtered air scrubbers and HEPA-filtered vacuums.
We apply a safe biocide (anti-microbial sanitation) treatment to remove the toxic mold spores as we work.
We employ strategic cleaning and encapsulation on surfaces as necessitated.
The type of surface where contamination exists determines the technique or combination of techniques that Advanced MircoClean uses for remediation.
Microbial remediation, Chinese drywall removal, and lead abatement can include microcleaning, environmentally sound removal and disposal of contaminated materials, antimicrobial coating application, and antimicrobial sanitation.
Call (954) 931-8154 now or fill out the form on this page to get rid of your mold problem.
Advanced MicroClean Services Residential and Commercial Properties Throughout South Florida
It's important to know what to look for and know what to do before it's too late. Any delays in action can become very costly. Advanced MircoClean's specialists will inform you how to prevent greater damage to your property while minimizing possible health risks.